It's time to talk to your family and friends and figure out how you'll get to Oregon, summer 2017, for the annual Moons and Tunes music and wilderness river trip on Oregon's Grande Ronde River!
WHAT IS THE GRANDE RONDE RUN LIKE?
This is only the second year the MOONS AND TUNES WILDERNESS MUSICAL RIVER TRIP has ventured out of the Colorado Plateau - we did the Lower Salmon River in Idaho one year, and I think people enjoyed exploring Idaho as much as the river trip itself. So this year, we are running the Grande Ronde River in northeast Oregon and Max and I are hoping for a trip to the Oregon coast after the trip, for example. We will run in those most wonderful of boats, wooden dories. We'll be with the same company we went with on the Lower Salmon River, Sun Dog Expeditions, Lonnie and the gang.
We put in near the town of Minam, OR on the Wallowa River, and meet the Grande Ronde River after 10 miles. The landscape for the first three days is a Ponderosa Pine forest, elevation of just under 3000 feet. Then for two days we're in basalt canyons like we saw on the Salmon and Snake Rivers. On the last day after 5 days of bliss and 90+ river miles, we meet the mighty Snake River itself just downstream of where it exits Hells Canyon National Recreation Area. We take out near where Oregon, Washington, and Idaho meet at 745 feet of elevation. We will be back at our cars around 5-6 PM on Friday so it's a good idea not to plan to drive a long way after a long day on the river, eating dinner, and doing the logistics of unpacking and de-rigging the boats. Certainly if you're flying to the trip don't make plane reservations for Friday evening. You'll need to book lodging or camping for this night as well as the night before we put in. More on this later.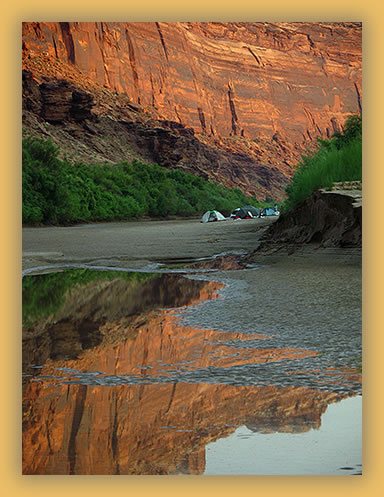 Who comes on these trips? About a third of the people come some or most years and have been doing so since we began the project in 1999. The others are people who hear about the project for the first time, and are beginning their journey with the project, be it a lifetime commitment, or only one year of bliss. Maybe half the people play instruments, sing, dance, juggle, act or engage in some form of creativity, and others are their friends and family who like to listen, or to experience the other aspects of a river trip - hiking, river running, star gazing, etc. OK, some general info:

MUSICAL INSTRUMENMTS:
Please bring some! Any instrument that will fit in a dry bag and won't be damaged by outdoor conditions is fine. We've had flute, saxophone, penny whistle, recorder, guitar, ukulele, trumpet, fiddle, drums, marimba, mbira, trombone, accordion, and dulcimers of all descriptions. The instruments ride on a boat in waterproof bags and are most likely not to swim. However, outdoor environments are hard on instruments - sand, hot, cold, dry, humid, etc. all in one day. That said, please don't bring anything irreplaceable or invaluable to you. I have a couple of pretty good river guitars and a hammered dulcimer available for everyone to use. Please let me know (1) if you are a guitar player so I'll be sure we have enough guitars and (2) what other instruments you plan to bring.
MUST YOU BE A MUSICIAN TO COME?
Definitely not. You'll have a fine time participating in all sorts of fun, creativity, and silliness of our own making.
MUST YOU BE AN EXPERIENCED OUTDOORS PERSON TO COME?
Definitely not. Previous river or camping experience is not necessary - we'll show you everything you need to know to have a fine time. If you don't have your own tent and sleeping gear, it can be rented.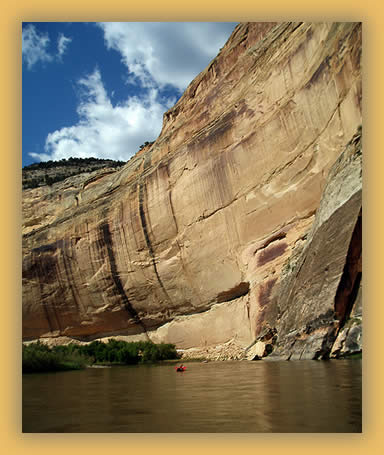 GUIDES AND EQUIPMENT?
We will have professional river guides to run our rafts, cook our dinners, and help us have a safe and fun trip. The guides will also bring our boats, gourmet food, and whatever other specialized river equipment we might need such as waterproof bags for our gear, and life jackets. All we need to bring is our sleeping bags and tent, outdoors clothes, our musical instruments and anything else we'd like to contribute to the fun - poems, stories and …
WHAT TO EXPECT IN THE FUN DEPARTMENT:
I can't tell you what will happen on this summer's trip any better than to describe other year's trips, and let you use your imagination. Each trip is different, and all have been some the best experiences of my life. First, there's the river and canyons, the dories and duckies, wildlife, breezes, weather, naps, white sand beaches, swimming, and stars. Then there's the human-type fun our little week-long community creates - music, dances, poetry, skits, etc. - as we get to know one another. On past trips, we've created dances on the spot (or rather on the sand, I guess would be a better description) from Sufi to step dance; we've had dulcimer playing zebras; there was lover's waltz dedicated to two couples who joined us for their anniversaries; we had an evening of love songs, which included a poem from the great Western cowboy poetry tradition about the unbridled love between a cowboy and his horse; Kokopelli made a guest appearance to play a duet with our saxophone player for a lunch concert/dance; we had a performance of stand-up comedy improv about nights in New York; costume parties have featured characters from Grace Slick of the Jefferson Airplane to the Pope - whatever one can create from the contents of a dry bag and the treasures to be found on the river bank; we celebrated Max's 60th birthday on one trip and many people dressed up as Max - hard to determine the real Max that year; some years we have very active photo contingents, and sometimes there's a yoga or tai chi flavor. Anything can happen when a bunch of fun-loving creative people get together for a week, depending on what you bring along!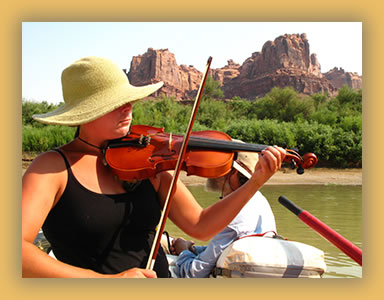 If you're a person who likes photos instead of words, try http://bonniecarol.com/RiverDul99pics.html for some goodies of what fun we've had on these trips.
THE LOGISTICS
DATES:
1st trip: Mon, May 29 (Memorial Day) - Fri, June 2.
2nd trip: Mon, June 5 - Fri, June 9.
Each trip is five days, four nights on the river.
For each trip, we'll meet on Sunday evening, the night before the put in, around 5pm at the Red Lion Hotel in Lewiston, ID. You can drive or fly to Lewiston.
COST:
$1,276 per person.
Your check, made out to Bonnie Carol and sent to:
15 Sherwood Road, Nederland, CO 80466
is your reservation. Please send as soon as you decide you're coming, or by FEBRUARY 1st at the latest.
This fee covers the river trip and all specialized river equipment like boats, life jackets and kitchen gear, gourmet meals cooked for us by the guides, guide tips, transportation from Lewiston to the put in and back after the trip, and all meals from lunch on Monday to lunch on Friday. This fee does not cover lodging the nights before and after the trip, Sunday and Friday nights.
For these 20 years that we've been doing Moons and Tunes ,I have tried to keep the price below $1000 but finally we must bite the bullet. We learned last year that we were skimpy with our guide tips, and you already know that dories are more expensive to maintain (and much more elegant to ride in) than rafts. We'll also have one passenger raft. This trip usually costs well over $1300 per person but that doesn't include guide tips, so we are still getting a good discount, even though the price is a bit higher than previous years. I hope it's not a hardship for anyone, because I hope you all can come! Just to let you know, we get this discount because I do the organizational work and because there are enough of you that we fill the trip(s). That said, please contact me first with any questions you may have; if I can't answer them sufficiently, we'll check with the river company. The idea is that we bring them a full trip without too much pre-trip work for them.
SO THINK ABOUT IT … DECISION TIME IS UPON US:

NIGHT BEFORE AND AFTER LODGING:
THE HOTEL OPTION: We have reserved a discounted block of rooms at the Red Lion Hotel in Lewiston, ID, 621 21st Street, Lewiston, ID 83501, 208-799-1000, Email: hswinehart@redlionlewiston.com for before and after the trip. When you decide to go, call the hotel and mention that you are with the Sun Dog Expeditions group, reserve and pay for your room. Your room will cost $98 plus tax per night. There can be up to four people in a room. There are 2 queen beds per room. The Red Lion will also keep our cars while we're on the river at no cost, and they have free luggage storage.
THE CAMPING OPTION: We are not able to reserve camping spots in advance, so if you'd like to camp call Hell's Gate State Park, 888 922-67434, and reserve your space as soon as you can. We're told camping spots are at a premium at this time in this area so call right away. One tent spot is ± $30 and can accommodate 2 tents, 8 people maximum. Each car over one is an additional $5. The campground would store your car while we're on the river for $5 a day. It's a little complicated to figure out, but if two couples shared a campsite and stored two cars for the week, I figure it would cost something like $37 per couple and then another $15 per couple at the end of the week for the Friday night campsite. Although we don't know for sure, we do recommend having a campsite reserved rather than taking your chances you'll find something. We're told you likely won't find anything.
Whether you camp or use the hotel, we'll meet for the pre-trip information talk at the hotel.
Those of you who have come before know that the trips fill quickly as soon as I announce them, frequently by February, although there are sometimes later spots if someone drops out, so send a check made out to Bonnie Carol for $1,276 per person as soon as you know you're joining us. Your check is your reservation.

Bonnie Carol
15 Sherwood Road
Nederland, CO 80466

Can't wait to hear from you!